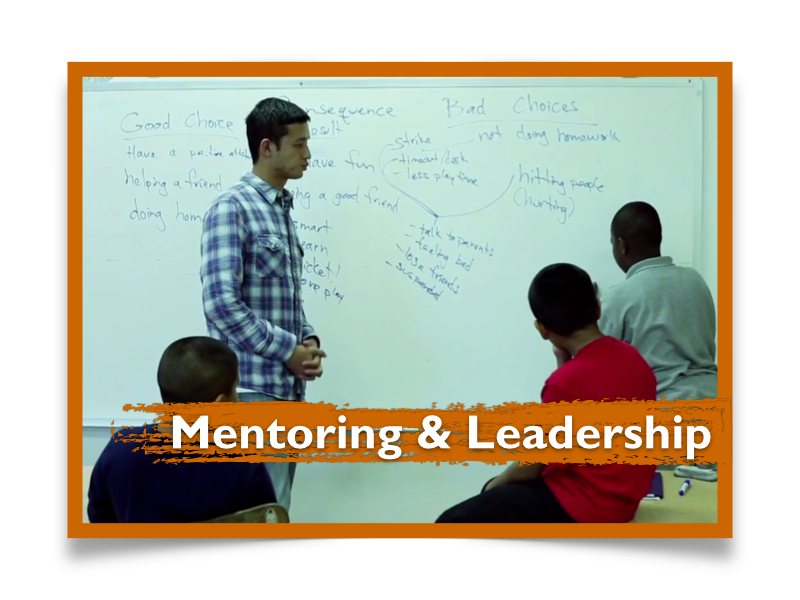 Mentoring Matters
Second Chances Mentoring Program (SCMP) builds long-lasting, caring relationships between youth and mentors, fostering each youth's individual growth and potential. SCMP helps to empower youth in our community to make positive life choices that enable them to maximize their potential.
The mentoring program uses adult volunteers to commit to supporting, guiding, and being a friend to a young person for a period of at least one year. By becoming part of the social network of adults and community members who care about the youth, the mentor can help youth develop and reach positive academic, career, and personal goals.
To give you an idea of what it takes to be a mentor:
Mentor Role:
Take the lead in supporting a young person through an ongoing, one-to-one relationship
Serve as a positive role model and friend
Build the relationship by planning and participating in activities together
Strive for mutual respect
Build self-esteem and motivation
Help set goals and work toward accomplishing them
Time Commitment:
Make a one-year commitment

Spend a minimum of 8 hours per month one-to-one with a mentee

Communicate with the mentee weekly
Participation Requirements:
Be at least 21 years old
Reside in Los Angeles metro area
Be interested in working with young people
Desirable Qualities:
Willing listener
Encouraging and supportive
Patient and flexible
Tolerant and respectful of individual differences
Benefits:
Personal fulfillment through contribution to community and individual
Satisfaction in helping someone mature, progress, and achieve goals
Mentee/mentor group activities, complimentary tickets to community events, participant recognition events
Along with our regular mentoring program we have the following Specialized Mentoring Program:
Mentoring Children of Prisoners (MCP)
Mentoring Children of Prisoners supports the creation and maintenance of one-on-one mentoring relationships between children of incarcerated parents and caring, supportive adult volunteer mentors. It takes a special heart to mentor children with incarcerated parents. Mentors in the Mentoring Children of Prisoners (MCP) program receive additional training and support. Children with incarcerated parents face additional challenges related to community stigma, grief, single parent homes and poverty.
You can be the one to show this child new and exciting experiences such as going to the park, joining a book club, cheering for them when they reach their academic and extracurricular goals, or just making dinner. Fill in the gap by being present, dependable and committed to helping these children flourish in the midst of their parent(s) incarceration. Come have fun and make a difference all at the same time. I bet you might be impacted as much as the child!
The vision of Second Chances Mentoring Program is to provide successful mentoring relationships for all children who need and want them, contributing to brighter futures, better schools, and stronger communities for all.
Interested in becoming a Volunteer in our Mentoring Program?
Second Chances Leadership Program was designed to build and develop the self-confidence, life and leadership skills of youth through interactive learning, in-class discussions and presentations, panels, workshops, and exploratory field-trips. Upon conclusion, participants will be able to demonstrate their understanding and knowledge of a leader's core essentials through a service learning project, weekly homework and journaling assignments, discussions, presentations, and a culmination project.
Our youth will become 'Ambassadors' allowing them to become well versed in the theoretical and practical application of a leader's core essentials and be capable of utilizing them within their home, school, and community. This which allows them to personally develop through leadership programs and have access to tools and resources that not only allow such youth to apply to college, but also allows them to succeed in life.
The Leadership Program focuses on 15 weeks of curriculum/activities (3 times a year) in Los Angeles, CA and ends with an International Summer Trip. The projects will expand youth's knowledge base by providing significant exposure to real life work experiences, hands-on activities that challenge their decision making process, and intense cross-cultural volunteer projects locally and abroad.
The components will be as follows:
Mentoring
Literacy
Leadership
Life Skills
Civic and Service Learning (Volunteering) – participants will need to put together a community service event at the end of their 15 weeks.
The youth in the Winter/Spring 2013 cohort came from the Imperial Courts Housing Projects in Watts they ended their 15-week program with a trip to Senegal Africa where they continued to build on their leadership development in partnership with the PeaceCorps by building a library and donating 600lbs of books.
Interested in becoming a Volunteer in our Leadership Program?
View More Programs